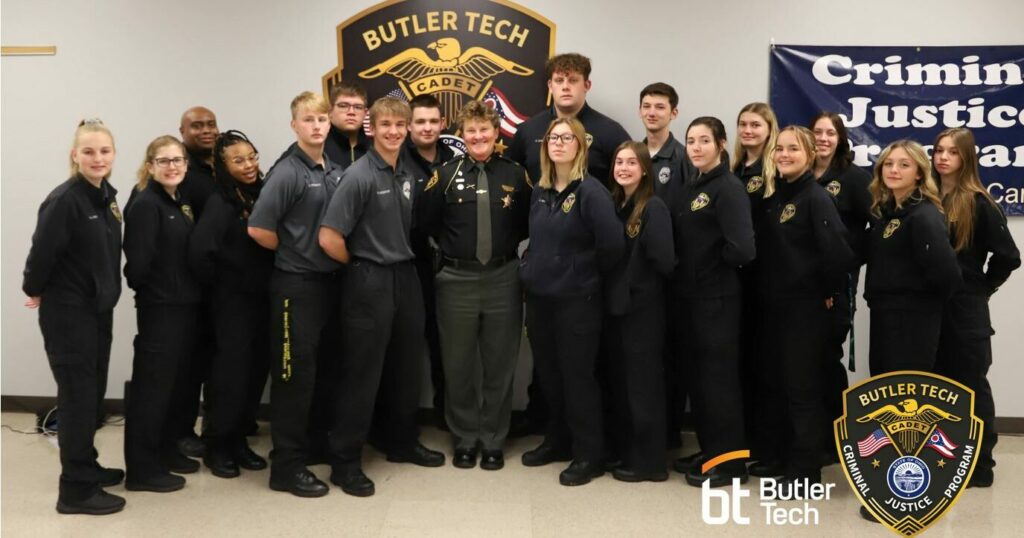 Butler Tech senior Criminal Justice students welcomed Sheriff Charmaine McGuffey of the Hamilton County Sheriff's Office today as a guest speaker and career pathway mentor.
Sheriff McGuffey, a 37-year veteran of the Hamilton County Sheriff's Office, talked with the students about her own journey through law enforcement as well as her personal philosophies behind the criminal justice system.
Sheriff McGuffey shared that she believes much of her success and movement through the ranks as sergeant, lieutenant, captain, and major, prior to being elected sheriff, she credits to her willingness to do the jobs no one else wanted to do.
"If the job was to empty the trash throughout the office, and that was the job that needed to be done, I willingly did the job," shared Sheriff McGuffey.
Sheriff McGuffey shared "war stories" of her tenure as major of Jail and Court Services, where she led reforms in the jail to reduce the likelihood of people returning to jail and is also credited with bringing Hamilton County Jail from the worst to the top-ranking jail in the State of Ohio.
"My personal philosophy is that serving time is your punishment. We are not to punish you while you are in jail by doing anything that is morally or ethically impermissible."
Sheriff McGuffey spoke candidly to the female Criminal Justice cadets in the room, who outnumber the males two to one in the program, about her decision to become a female officer and some of the struggles she and other women must overcome in order to earn the respect of the public and often their peers.
"My advice to all of you," said Sheriff McGuffey, "is to find your way by finding where your skill set is best suited in the system. Always take the promotional exam, even if you think you aren't ready. Be ready to take on the work."
Sheriff McGuffey's display of passion for the field of law enforcement served as timely inspiration to the aspiring students on Law Enforcement Appreciation Day 2023, always recognized on January 9.
Butler Tech would like to thank Sheriff McGuffey for her service and time spent with our students today. We salute you!