Student Spotlight: Kiki Cook (Fairfield)
10th Grade Academy/Graphic Design – Fall 2022
Class of 2024
Fictional character Madoka may not walk the halls of Butler Tech, but her creator, Kiki Cook, 10th Grade Academy student, hopes that her peers can connect to her protagonist, increasing the readership of her stories and graphic novels in general.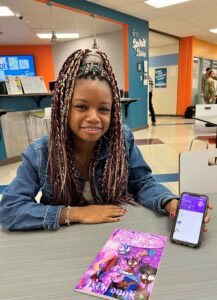 "Madoka and the Moonblade" is Kiki's first published graphic novel about main character Madoka who is on a quest to find her missing family. The story, which continues to unfold in print and most recently online, takes place in the land of Eithera and shares the encounters and difficulties along Madoka's journey.
"I've had this story in me for many years," shared Kiki. "I have written and drawn and started all over again to make it better. Along the way, I even had people tell me to abandon the story and characters but I didn't want to change it. I wanted to show growth instead."
Kiki eventually felt that the first two chapters of her story were ready to be published and earlier this year worked with a publishing company to publish and print a short run of the book.
"For me," Kiki said, "the story itself – it's everything! It includes all genres, fantasy, medieval, mystery, romance, it has a little something for everyone. It's also a huge reflection of me. In the early stages, I received feedback to put myself in the story to help bring it to life, so literally, each character is a little like me and my different characteristics."
Kiki is currently continuing the story on a comic book online platform called Webtoon. The free app houses thousands of stories and allows Kiki to receive praise and feedback from her followers.
Kiki aspires to one day attend the New York School of Visual Arts and will continue her artistic educational pathway next year in Butler Tech's Graphic Design program! Her ultimate goal is to become an animator.
"I have always loved Walt Disney," shared Kiki, "and his quote, 'All our dreams can come true if we have the courage to pursue them,' drives me to go for it!"
See more of "Madoka and the Moonblade" on Webtoon
Watch Kiki work: