Butler Tech is continuing to revolutionize education by providing students with choice and voice in their education and learning. One example of this was the 26 HOSA-themed sessions offered to students, conference style, at the Bioscience Center during their Fifth Day Experience. HOSA, formerly known as Health Occupations Students of America, is an international career and technical student organization the students participate in as part of their health-related studies.
"Student choice is more than just picking a task, it's about consuming and owning the learning process," explained Madison Nitz, Student Ambassador for the Healthcare Science program.
"We had speakers from our central office, state and international student officers from HOSA, our former school resource officer and the director of the National Alliance on Mental Illness, Army medics, West Chester Hospital's surgical coordinator, local college recruiters from Sinclair and Cincinnati State, and many other awesome teacher-run sessions," shared Dr. Cook, Bioscience Center Principal.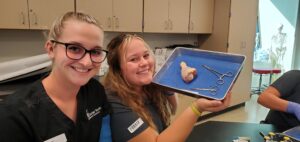 The students chose and scheduled their sessions throughout the day learning everything from more about how to compete in HOSA competitions to suturing practice on chicken legs and burn treatment simulations.
"I genuinely enjoyed each session I attended on Friday. I took the day to learn about life skills, such as adapting to change, identifying my character, how to communicate properly, and so much more. All things that I will carry with me for the rest of my life and use daily," shared Jenna Waugh, Student Ambassador for the Exercise Science program.