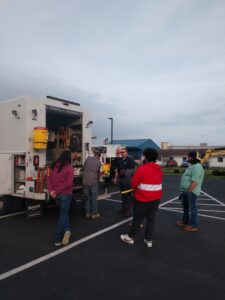 The Lesourdsville Campus recently hosted a Family & Friends Day for our current Utility Pipeline Technician students along with their family, friends, and local business and industry partners. Also, in attendance was Zach Bohannon, Senior Field Representative for Congressman Warren Davidson, and a strong advocate for our UPT program. Mr. Bohannon tried his hand at excavating on the heavy equipment simulator!
Duke Energy representatives Ben Chasteen and Kyle Hetzel were also in attendance providing attendees great insight into operating fully equipped vehicles in the field and Jeff Maynard, Operations Manager for Utility Technologies International, seeking UPT graduates for his southwest Ohio pipeline operations.
Many thanks to everyone who attended, and to our students who took the time to show their families and friends what they have accomplished at Butler Tech in the Utility Pipeline Technician program.
For more information about the Utility Pipeline Technician program beginning in April visit: https://www.butlertech.org/program/utility-pipeline-technician/