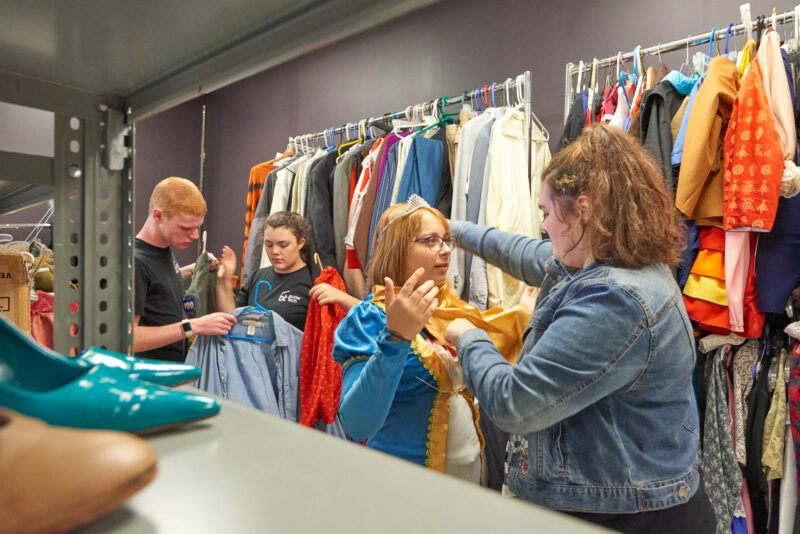 Butler Tech Theatre Program Overview
Whether you want to be center-stage or behind-the-scenes, Butler Tech's Theatre pathway prepares you for both the creative, technical and strategic side of the business. With the guidance of experienced instructors, students enrolled in Theatre are prepared with all the basics of the performing arts and one focus area of their choice for more in-depth study. Flexible schedules allow for training, rehearsal and creative collaboration between students from all of the School of the Arts pathways.
Hands-On Experience
Learn Theatre by actually performing. Butler Tech has a unique partnership with local organizations, offering students hands-on opportunities like:
• Job shadowing • Internship • Job co-op experiences • Mentorship
Graduate from high school ready to pursue an entry-level position or choose to continue your education at a two- or four-year college to pursue a career in Theatre. School of the Arts students can earn college credits to apply to a college degree.
Student Organization
All Theatre students participate in SkillsUSA, a student business organization which empowers members with a structured program that promotes citizenship, leadership, employability, technical and professional skills training. Students have the opportunity to compete at regional, state and national levels.
Industry Overview
From local studios to big-budget productions, a career in theatre is full of opportunity to create and perform throughout the world. It requires someone who is more than just creative; employers are looking for hard workers, excellent communicators, and people who care about telling a story.
Course Work
• Business of arts and
communications
• Dance
• Choreography
• Acting performance
• Acting and script analysis
• Costuming and makeup
• Musical concepts
• Musical engineering
• Musical ensemble and
composition