Senior Ceremony – Cintas Center Guidelines 
BUTLER TECH SENIOR CEREMONY:
Monday, May 15, 2023
7:00 pm 
Cintas Center, 1624 Herald Ave, Cincinnati, OH 45207
Watch live stream: https://www.cintascenter.com/livestream
TICKET INFORMATION

Each student will be given a pack of ten (10) general admission tickets. These will be distributed to the student at their campus via the main office. If a student needs additional tickets, please see the campus secretary. Tickets will be required for admittance and will be distributed in advance by the school. All quest seating will be general admission. Tickets are REQUIRED for ALL guests ages 2 and up (this does not include seniors participating in the ceremony).
PARKING AND ACCESSIBILITY INFORMATION
Butler Tech students, parents, and guests are encouraged to park in lots C-2, C-3, R-3, and B/C-4.  Students will enter through the West Entrance of the building (Kohlhepp Family Auxiliary Gym doors). Parents and guests should enter through the Main Entrance of the Cintas Center. Cintas Center guides will direct you where to go. Individuals entering the facility must have a general admission ticket. 
Parking is available adjacent to the Main Entrance of the Cintas Center for those in need of easier accessibility. A drop-off and pick-up area are also available at the Main Entrance if accessible parking is full. The Cintas Center can provide wheelchairs upon request. Guests in need of a wheelchair should stop by the Guest Services Booth, located just inside the Main Entrance of the Cintas Center. 
DOORS OPEN
Cintas Center will open for public access at 5:30 pm. Individuals entering the facility must have a general admission ticket. 
BAG POLICY
No bags will be permitted except for clear bags and small clutch purses. No broadcast-style cameras will be allowed in the arena. For more information and a list of prohibited and approved bags, please visit www.GoXavier.com/ClearBag. Balloons, air horns, and noisemakers are not permitted.
COMMENCEMENT PHOTOGRAPHY
Lifetouch Photography will honor your achievement with commencement photography. Visit events.lifetouch.com to sign up and receive a notification when your proofs are online and ready to order.
Lifetouch Photography Brochure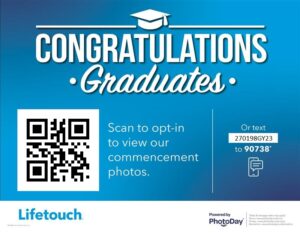 Senior Ceremony Information Booklet and Tutorial Video for Seniors/Parents/Guests
BT Senior Ceremony Info Booklet for Students Parents Guest