Ladies and gentlemen…start your engines! Butler Tech is working on a race car!
Through a collaboration with business partner, Adam Jones, Butler Tech is joining forces with students to ready a race car for the track. The project will involve many students from various programs but will center heavily on Auto Collision and Auto Technology who will work to restructure the car and prepare it for presentation at the annual Cavalcade of Customs. However, any interested Butler Tech students can participate in the build by signing up for the "Building a Race Car" Fifth Day Experience beginning October 22nd.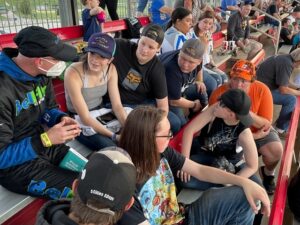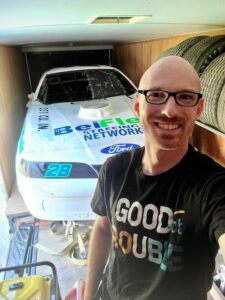 To jump-start the project collaboration, several students, Auto Collision instructor, Fred Hurt, and Assistant Superintendent, Marni Durham, ventured to the Lawrenceburg Speedway to watch the race car perform one last time before the exchange occurs.  At the event, Butler Tech was asked to engage in a podcast with Cross the Line 15/24 in regard to the project.  Cross the Line 15/24 will also follow the build and bring their podcast equipment to a Butler Tech lab in the future for an up-close look at what we do!
"As we continue our commitment to the Education Revolution, we create opportunities for schools, business, and community members to work on projects that benefit the greater good centered on passions," said Marni Durham, BT Assistant Superintendent.  "This is one more example of growth mindsets coming together to provide unique opportunities for students."
Finally, The Friends of Butler Tech Foundation is supporting this project by soliciting business partners to wrap the car with their logos so it can be used as a fundraiser. The funds raised by The Friends of Butler Tech Foundation are used to assist students in need with their school supplies.  Overall, anyone that stops what they're doing when they hear a race car engine turn over will have an opportunity to get involved! We hope you can join us!