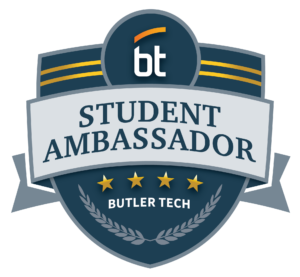 Student Ambassadors are among the most energetic, involved, and passionate students at Butler Tech! They exemplify the very best of what Butler Tech has to offer by confidently representing their program, campus, and career technical education.
Although each member of the Butler Tech Student Ambassadors is unique in their passion, purpose, interests, and background they all share one common thread – pride and enthusiasm for Butler Tech.
Butler Tech Student Ambassadors play a crucial role in sharing their career tech experience with potential students, families, home school staff, community leaders, and elected officials. Through campus tours, special events, and genuine conversations, Student Ambassadors are one of the most trusted sources to provide student voice of the passion, purpose, and impact of Butler Tech.
Visit the Student Ambassador page to learn more. 
Click HERE to watch the Student Ambassador Info Zoom Session
Click HERE to apply now! Deadline September 25, 2023, at 4:00pm.